While 989 Sports has toiled in the shadows of the glitzier football titles from EA and Sega, the company has made steady progress through each edition. This year's edition of NFL GameDay implements improved AI, a deeper playbook and vastly improved graphics that help it keep up with the pack. Most significantly, the series implements extensive online play for the first time, allowing players to compete in tournaments, chat with email and check the sports ticker and download roster updates. Players can also talk to each other call plays using the USB headset. These are cool additions, but are they enough to keep the series in contention? Read our review and find out.
989 Sports' NFL GameDay 2004 is another impressive step forward for the Sony's much-maligned sports division. Even though previous titles haven't lived up to their rivals, starting with last year's games, a significant evolution began to occur which continues with the current releases. With its significant and noticeable improvements, especially the online mode, players should definitely consider this as at least a secondary football title. As you'd expect, GameDay 2004 offers a variety of game modes that allow you to many options. Those unfamiliar with the series can use the Practice Mode to tune their skills in the extensive training camp which teaches you the basics in a relatively painless manner. Once you're ready to hit the field, you can select several standard modes including Pre-Season, Season, Tournament plus GM and Team Manager modes. Preseason pits any two teams from the league against the other, while Season encompasses a full 16 games. More interestingly, players can choose to sit in the coaches' chairs in the General Manager mode. Here, you can control every aspect of a team, from changing rosters, drafting players, changing positions, editing and updating your playbooks, creating new strategies and more. During the season, you'll have access to the team's complete status by looking at statistics and reports, which will help you make decisions about who to keep and who to cut. As the season goes on, you'll earn a ranking based on your team's performance, so if the team gets into trouble, you may find yourself out of a job. Making it through a season means you can make moves in the off-season such as drafting or trading players, changing rosters and more. This is quite comprehensive with deep statistics that rank the team in a number of ways such as Pro Bowl Prospects, MVP awards and Playoff Trophies. GameDay 2004 also allows you to create your own player from scratch, save and train them and then add them to the team's roster. If this isn't enough control for you, you can enter the Franchise Mode, where you can build a team from scratch by selecting your location, team colors and creating your own players. You can then compete against the other NFL teams in a full season mode. These modes are interesting and involving but the question is whether the game holds up on the field.
Players will find the control interface fairly easy to learn, and the game controls well. Most of the control mechanisms from last year have been carried over, but 989 has added a unique pressure gauge that allows you to control your ball carrier's aggression level. Lightly pressing the analog D-pad makes them perform a standard move, but harder presses make them perform their special moves more aggressively. It sounds like a small addition, but adds a lot of strategy to each play. Maneuvering the active player down the field has been made easier thanks to the improved AI of your teammates. The passing and catching system is excellent as well, and the game excels in most areas though there's an annoying pause between the time you call a play and when your team breaks into formation. Aside from this, GameDay 2004's plays fluidly, though movement of players is still choppy at points. The opposing teams have more aggressive running games and won't hesitate to tackle the QB, though finding open areas isn't as difficult as it could be. The game's offensive moves have been fine tuned and GameDay 2004 features numerous improvements from previous games in this department. This makes running the ball upfield a bit easier and you can get some good runs with very little effort. A more comprehensive playbook has been implemented for each team in the league, allowing your team to run a variety of calls. The control interface is simple to use, with onscreen making it easy to scan the field and throw the ball downfield to the proper receiver. 989 Sports have also improved the AI substantially and the rival teams now react to your moves much more realistically, making for games that are more competitive. However, there are still holes in most teams' defensive lines that let you walk through them without breaking a sweat. This leads to easy victories, which happen too frequently. There's also an annoying pause after you call a play, which eats up the clock needlessly. Another problem lies in the opponents, which while more aggressive than in previous game, are still far too predictable. On the bright side, Sony has improves the kicking interface and mechanics substantially, and this is one area where the game absolutely shines. Despite some problems, GameDay 2004 plays and feels noticeably smoother than last year's edition.
989 has obviously spent a lot of time and money implementing a comprehensive online mode. Players logon and enter the Lobby via the 989sports.com website. Here, you can set up games, talk to other players using the Headset or chat via email, and even check live stats and during the season. Being online also allows the game to implement real-life weather conditions, update stats and rosters each week. Players can then compete against each other online, then check their rankings against other players, compete in tournaments and even win prizes. In another nice touch, you can track your progress in all 989 titles using a single account, so you can check your status in GameBreaker or ShootOut at the same time. While there could have been a lot of bugs, it seems like the developers have taken their time to do it right. 989 deserves credit for having done an excellent job in implementing these features. From a technical standpoint, GameDay's internet mode delivers a solid experience and the online game plays as smoothly as one could expect it to. While the game supports both dial-up and broadband connection, we tested it using a cable modem and found the game's performance to be excellent. There was little lag or downtime, and we weren't knocked off once. Another innovation this year allows players to communicate using the USB headset. When this is connected, it allows you to chat with other players in the Lobby and can also be used in the main game to call plays and moves. GameDay 2004 includes more than 50 voice-activated commands It works nicely for the most part, though sometimes an garbled command can be misread and cause the game to freeze. There are some minor bugs here and there, but this new technology works fairly consistently. Being able to talk adds a new dimension that really helps to immerse you into the game and definitely sets GameDay apart from the competition. It really cool to sit their and call out plays, instead of navigating a series of menus, which gets old after awhile. As the most-touted new features in GameDay 2004, the extensive online mode and voice commands live up to their expectations, and deliver a compelling reason for players to at least give the game serious consideration.
From a visual standpoint, GameDay 2004 also impresses. Players will also see that big changes have been made in the graphics engine to make for a more realistic look throughout. The players look more natural with better character models, accurate proportions and many new animations that give GameDay a much more natural appearance. The stadiums are much more detailed this time as well, and you'll see new additions, such as cheerleaders and coaches on the sidelines. GameDay 2004 also offers several camera angles allowing you to view the action from a variety of perspectives. The audio is very good as usual, with excellent play-by-play announcing and player chatter doing a good job of recreating the intensity of a real NFL game. However, there are some nagging problems. You can't change camera angles on the fly, which makes the game feel static and also limits your field of vision during important plays. Another problem lies in the fact that while the character models look much better, they still can't compete with the best of breed titles. Even though the overall presentation and production values aren't dynamic of flashy as those seen in other football titles, GameDay 2004 uses the PS2's processing power effectively.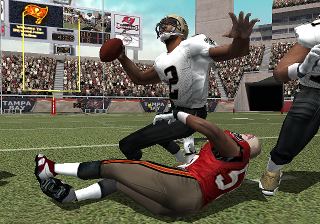 Once you get past the gimmicks and flashy online modes, the real question is how the gameplay stacks up. The controls have undergone a slight tweaking but the new pressure sensitive controls make the game play much smoother. The AI has been upgraded substantially, making for more intense and competitive games for the most part. However, there are still a few questionable areas with unstoppable plays and frustrating reactions that can leave you pulling your hair out. However, playing against human opponents changes this substantially and makes for a much more competitive and realistic game. So in the end, the verdict on this game is that it's a significant step forward for 989, and much better than players might expect. While it lacks the depth of Sega or EA's football titles, NFL GameDay 2004's unique online play modes and vastly improved graphics engine makes it a fair choice if you're looking for a decent second football title with online play.



> Related Reviews

NCAA GameBreaker 2004 (PS2)
NFL 2K3 (Xbox)
NCAA GameBreaker 2003 (PS2)
NFL Gameday 2003 (PS2)
NCAA Final Four 2002 (PS2)