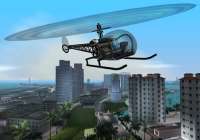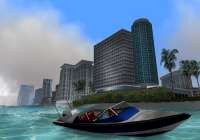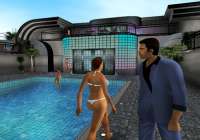 (Continued from previous page...)
One of GTA's biggest claims to fame has always been it's free-form, non-linear structure and Vice City expands on this. While the missions unfold linearly, there's no set way to complete them, and no set order in which to play. In fact, you can spend hours cruising around the city aimlessly listening to the radio with no apparent penalty, since there's no clock. While the main game missions are easy enough, as you unlock more of the city, you can do things for other bosses in the game, including the director of adult movies. What's really cool about this is that these side missions are almost as elaborate and intense as the main game itself, dramatically increasing the length of time it will take to see everything in the game. In addition you can jack official vehicles to unlock taxi, ambulance and police sub-missions, and these offer much more variety than the last game did with different levels of quests on each.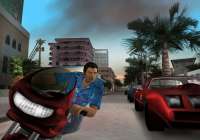 While it looks similar to GTA3, some improvements have been made such as light-sourcing and better looking objects with less pop in. This gives Vice City a nice and smooth appearance. Animation is slightly better, there are more characters and the transitions between day and night make for some cool effects. There's also a cool new blurring effect, where you can see the trails of light, which gives Vice City a surreal look, though you can turn these off if they get distracting. The sheer scope and size of the city is almost unimaginable, exponentially larger and more detailed than GTA3. While a large portion of the game is unavailable, more areas are unlocked as you progress through missions. In addition, there are now indoor environments in the game, which makes the city more alive. Some of these are comparatively minor areas such as shops, while others are huge mansions filled with gunmen that you have to kill to reach an end goal. In addition, more of the outdoor environments are active. For example, you'll find yourself chasing a thug across a series of rooftops then jumping down and chasing him in a vehicle. This complete sense of interactivity and immersion makes for what is an incredible experience through and through.
Even though Vice City's graphics engine is similar to GTA3, it takes place in a much larger with many more areas to explore. In addition, the game sports more elaborate cut-scenes, and real life voice acting to make the experience even more cinematic than before. These scenes are longer and more exculpatory than the last game, making this year's edition more immersive and evocative than last year's edition. Taking place in the 80's, in a parallel-universe Miami, the game's neon-glow is a nice change from the drab environments seen in GTA3. The overall design of Vice City is excellent, faithfully reproducing the feel of that decade in clothing, car designs and architecture; it's almost like a time-machine. The character animations are slightly improved, but the more impressive thing is there are more and different types of characters this time around. There are more pedestrians walking on the streets, different kinds of gangsters and street-thugs that populate this corrupt tropical urban paradise making it feel all the more immersive.
Speaking of Vice City citizens, the game's professional acting goes a long way in bringing the characters vividly to life. Ray Liotta does an excellent job portraying Tommy, but other actors shine. Appropriately, Miami Vice alum Phillip-Michael Thomas plays Tommy's sidekick Lance with aplomb and other famous actors featured during the game include Dennis Hopper and Burt Reynolds. This gives the game an edge over other titles on the market, and appropriately, the script is as good as the talent. Vice City's narrative flow is surprisingly excellent, especially when you consider how much freedom it gives you to walk around and do nothing. The plot unfolds at an excellent pace, with loads of plot-twists and double-crosses to keep your motivation level high.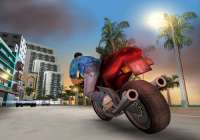 Further evoking the 80's is Vice City's absolutely brilliant soundtrack, stocked with some of the best and most annoying songs of the decade. The music selections are extensive and with an excellent choice in tracks. There are several distinctive channels to choose from, each focusing on a specific genre of music. As you drive around, you'll be able to listen to well-known pop artists like Lionel Richie, Michael Jackson, Blondie, Hall & Oates, along with long-forgotten acts like Animotion, Corey Hart and Samantha Fox on the radio stations. Some obscurities such as Nina's "99 Luftballoons" and Gary Numan make welcome returns on the radio as well. There are different channels, including an underground rap station that plays seminal tracks from Grandmaster Flash and Run DMC. The rock station is nice specializing in hair-metal like Quiet Riot, Twisted Sister and David Lee Roth. GTA's wacky trademark commercials make a welcome return this time as well, with edgy satirical ads playing between songs, though we won't ruin the jokes so we'll refrain from describing them. There's also a funny talk-radio station. There's a lot of music in the game, and most of it is excellent, so it's no surprise that there's a 7-CD box set of Vice City available separately.

There's little doubt that with its ultra-violent, profanity-laden plot, this is certainly not a game for kids, or even young teens, but for adults, the game represents a coming of age of sorts for electronic gaming. Taking an uncompromising approach lends Vice City's plot a credibility and realism that's unprecedented. While a lot of developers are pretending to cater to the adult audience, few games have ever been as successful as GTA: Vice City when it comes to making a believable, cohesive world come convincingly to life. Though Rockstar could have rested on its laurels and produced a quickie follow-up, they've gone above and beyond the call of duty to create a game that blows the original out of the water. The city is impressive in terms of sheer scope, and the open mission structure takes this imaginative palette to create a living, breathing world with an attitude all its own. Vice City definitely lives up to the massive hype and more than delivers on all the promises while doing things you'd never expect any game to even attempt.

> The BradyGames Guide

Vice City takes place in a massive game world that seems to sprawl endlessly at your feet, so it makes sense to purchase a guide book. Since BradyGames has always had high standards in content and print, their publication is the choice for this game as well. Their book includes detailed maps that help you in a number of ways, such as locations of the secret packages. The book is loaded with complete walk-thrus of mission goals and objectives, and with the non-linear approach of the game, allows you to plan ahead and find the best ways to get through the game. With an excellent layout, players should have no problem finding the information that they need, as well as tips and tricks that will allow them to blow the doors off the title. The presentation lives up to the high-standards set by the other "Signature Series" releases with loads of excellent artwork and a pull-out poster size map of the entire city. This is another high quality release from the strategy guide company and well-worth your money. For such a huge and deep title, something like this is almost essential and BradyGames' book is useful and informative, making it highly recommended for anyone looking to get the full Vice City experience.









> Related Reviews

State of Emergency (PS2)
Dead to Rights (Xbox)
Max Payne (Xbox)