NBA 08 has a fairly robust feature set, and this makes for a comprehensive simulation of the sport that should evolve over time. As you'd expect, the game is fully licensed and each of the NBA teams and their players are included, along with their authentic arenas and courts, which makes the game feel quite professional. There are modes for solo, multiplayer and online games. These include the standard solo and multiplayer games, practice, season, modes or you can jump ahead to the playoffs and tournaments to get to the end of the season. In addition to these standard modes of play, NBA 08 also includes a couple of cool mini-games such as a three-point shootout, where you have to sink as many baskets as you can before the timer runs out, an around the world challenge that has you sinking balls from different positions on the court and finally a skills challenge mode that allows you to refine your technique in a fun manner. These are fun additions to an already deep game that allows for some enjoyable, if somewhat superficial gaming fun.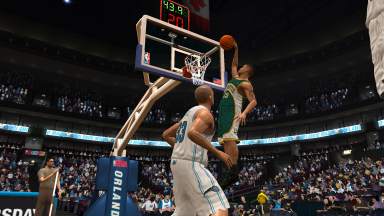 Additionally, NBA 08 offers an impressive array of online and multiplayer options. As mentioned earlier, you can also go into the online hub system and set up, match and play games easily and simply, as well as download updated stats and data. One of the biggest innovations in the game this time around is the "Game of the Week" feature, where you can download a scenario from one of five actual NBA games played the previous week and then try and recreate these highlights within the game itself, which is a really cool idea that seems to have been implemented nicely into the package. Players can also go back and play scenarios from the previous season in the NBA Rewind feature, which should make things even deeper. You'll also be able to see streaming video and get updates throughout the season, which is a cool idea. These online modes also include the usual scoreboards, rankings and some interesting community features, such as the ability to show off their created players to other online gamers, which makes the online experience even better. One of the more interesting additions to the game this time around allows you to create avatars or self-created players. These can be used throughout the game's various modes in NBA 08's unique progression system. As you play more games and modes, you'll earn skill points which you can then use to unlock additional upgrades and content that can only be accessed by playing through NBA 08's various play modes. This definitely helps to bring you deeper into the game while adding to you motivation to keep playing.
The game plays just as smoothly as you'd expect, and while it emphasizes the arcade aspects over sim, its fast-pace and excellent controls make NBA 08 an exciting game that accurately mimics the pace and feel of real professional basketball. The game's AI has been enhanced and the opposing players react more realistically to the player's shots. Their positioning on defense is also noticeably better, which makes making shots that much more difficult, which can be frustrating at times. Each team seems to play together more realistically as well, and they seem to move in tandem more often, which makes the game feel more realistic. You'll also probably notice that the players commit fouls and intentionally block passes, which makes the game feel more like it should. The basic controls are fairly easy to use, and the intuitive interface allows you to concentrate on the action with passing, throwing and shooting controls fairly easy to learn. One of the more interesting and innovative aspects of NBA 07 are its extensive use of Sixaxis controls, which can be tweaked and adjusted to the players' liking. Players can choose to have the motion sensing controls either enabled or disabled, and can use them for a variety of functions such as dribbling or shooting, which allows you to feel like you're moving and controlling the ball more viscerally than the standard controls. It's a bit hard to get used to, but you can choose to play with these turned off until you can get accustomed to their nuances.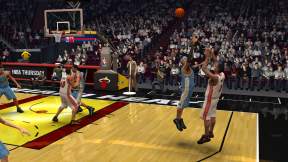 Despite the fact that its competitors are likely to get the lion's share of attention, Sony deserves credit for producing a solid effort this year thar delivers one of the more enjoyable sports titles on the PS3 so far. It's a shame that the company's sports titles are so under-rated, because NBA 08 delivers one of the most engaging and technically excellent roundball simulations seen on the PS3. It's flashy graphics shine in full 1080p with smooth 60fps action throughout, a key differentiator that makes for a beautifully rendered experience. Enhanced animations make things feel even more fluid in your hands. The gameplay hasn't changed too much, on the court and those who enjoyed the arcade-style action of last year's game will probably feel right at home with NBA 08's style of play. Its additional online modes that let you play right along with the upcoming season as it unfolds, challenge other players, recreate winning moments or guide a custom player through their careers are extensive and add a lot of depth to the experience. While it might not be as polished as some other basketball titles on the market, this represents another solid effort from Sony's sports division and the PS3 version is easily the showcase version this year around.
We would be remiss if we didn't mention that Sony has also released the title for its PS2 and PSP handheld systems. Both games feature a similar feature set to the PS3 edition, though they each have their own unique modes and styles of play included. The PS2 edition feels very much like last year's edition, and even includes a new installment of "the Life", a role-playing type of mini-game where players can follow a single baller throughout their career. The PS2 version has similar play mechanics and plays to its predecessor, and looks very good for the console it's on. NBA '08 also includes extensive online modes, and an abundance of mini-games as well. On the PSP, the focus seems to be on the mini-games, where players can choose from more than a dozen including around the world, hoops shot and many others. The PSP edition includes very impressive visuals as well as good play control that springs right off the portable's screen with excellent play animation, cut-scenes and extensive commentary. While the PS3 edition is the best one of the three, all of these versions of NBA 08 are solidly entertaining with excellent production values that make them well-worth playing.

- Michael Palisano

Grade: B